Forex Broker Profit is a fully automated trading copy system design for the MetaTrader 4 trading application. Using free Trade Mirror service to copy all the trades to your MT4 account.
Users only have to run this Broker Profit EA in one currency pair chart and all the trades will be placed and controlled for you.
Forex Broker Profit Robot supports the following currency pairs: AUDJPYf AUDUSD, EURAUD, EURCHF, EURGBP, EURJPY, EURUSDf, GBPJPYf, GBPUSD, NZDJPYf, and NZDUSD.
---
BROKER PROFIT LIVE PERFORMANCE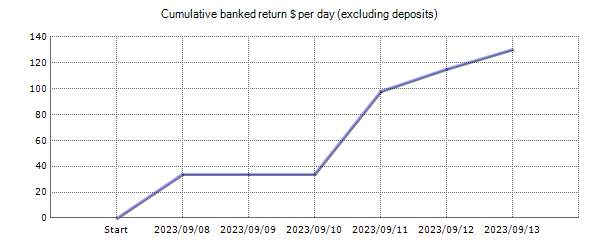 click on images to check the full report.
---
BROKER PROFIT FEATURES
Fully Automated
100% Hands-free.
Forex Broker Profit robot is completely 100% automatic trading. No manual intervention is required.
100% Broker Compatible
All Brokers compatible.
Is 100% fully compatible with all forex brokers in the market that provide Meta Trader 4 Terminal (MT4).
Money Management
FOREX Broker Profit ROBOT came with money management tool.
The ea will manage your money with the integrated advanced account and money management system.
Spread Protection
High spread protection system.
It keeps you away from unsuitable market conditions (High spread and High Slippage).
Easy To Use
FOREX Broker Profit is very easy to use.
Extremely easy to use, understand and setup. Come with setup, user manual and only take 5 minutes to set up.
---
FOREX BROKER PROFIT – $297 ONLY!
This is a one-time payment. You will not be required to pay any additional fees in the future.
You will be able to trade on 1 real and 1 demo accounts with this license. This purchase comes with 60 days money back guarantee.
Here is a brief summary of what we offer with the license:
1 Real and 1 Demo Account
Free Trade Mirror Software
24/7 Support
Lifetime Updates
60-day Guarantee
FOREX BROKER PROFIT ROBOT FAQS
Do I have to monitor Forex Broker Profit EA all the time?
Forex Broker Profit can trade all by itself – there is no need to watch over it all the time. It opens and closes all the trades automatically, so you can simply let the robot do all the hard work.
Is Forex Broker Profit compatible with any platforms other than MT4?
No, Forex Broker Profit is only compatible with the MT4 terminal platform. If you want to trade with this robot, be sure to choose brokers that provide this platform as a trading option!
Can I trade with Forex Broker Profit EA on any broker?
You are completely free to choose any forex broker that provides MT4 terminal fx trading software.
Do you provide updates for Forex Broker Profit Robot?
All our product updates are completely free to all our customers. As soon as an update becomes available, we inform by email all our customers.
Do you provide customer support?
Yes! Our support team is always available to all our customers 24/7. If you have any questions, don't hesitate to contact us any time via support ticket or email!
What is the required minimum deposit to start trading with Forex Broker Profit EA?
We understand that money is the main question. And we know well that many new forex traders don't have much capital to get started. Broker Profit forex robot is made to be able to trade with a very low minimum amount of money. That minimum capital amount depends on your broker company as well. You can start trading with forex Broker Profit EA with a minimum as $50. But remember the fact that trading with a small capital may be a disadvantage because you will only be able to trade the market in small sizes. The recommended capital is $50 with cent accounts. Of course, with Broker Profit you can test the robot with Demo account first.
Is it possible to run more than one expert advisor (Trading System) on a single account?
Yes, it is possible. Forex Broker Profit will not touch any other trades.
What time frame is recommended for Forex Broker Profit EA?
Forex Broker Profit Robot is developed for any time frame.
How frequently does the robot trade?
That all depends on the market conditions- it may open between 20-50 trades per week. During certain periods of time, the ea it may be more active.
What are the trading account requirements?
Leverage: 1:500 and higher. The balance of not less than $50 USD.
What type of internet connection and computer hardware do I need?
We strongly recommend that your ISP internet connection and your computer are stable to work without interruption 24/7, from the forex market's opening on Monday to closing time on Friday.
Should I turn off Forex Broker Profit robot at weekends?
The Forex market is closed at weekends between Friday (22 GMT) to Saturday (22 GMT), so whether or not you turning it off Forex Dyna EA will not affect its normal operation.
What happens if my internet suffers a temporary breakdown?
Finally, Forex Broker Profit EA will not be affected, as long as the internet is reconnected within a short period.
What will happen if my PC/VPS computer shuts down or restarts?
Don't worry! After your system loads, you just need to restart your Meta Trader 4 terminal and the robot will take control of its opened positions.
Have a question / Need a Help? Contact Us